Faculty Lab Instructor (Flex DPT)
Austin, Texas
Job ID: Req #73
Overview
A core faculty member at the University of St. Augustine for Health Sciences (USAHS) provides engaging clinically-focused learning opportunities for students in the health science professions through face-to-face, blended, and online delivery methods. A faculty member is responsible for teaching, academic advising, and service involving collaboration across other departments and campuses. They provide service to the University through committees, curriculum improvement, and advocacy for their profession. Faculty members are scholars, being involved in building and integrating knowledge for the advancement of the profession and the University.
Job Type
Full-time
Core

Experience
2 years of clinical experience

Certification
Licensed or eligible for license per one's discipline in which the campus in located
Success Profile
What makes a successful core faculty member at The University of St. Augustine? Check out the traits we're looking for and see if you have the right mix.
Committed to Mission and Core Values
Dedicated to Students First
Accountable
Academic and Professional Expertise
Educational Design and Delivery
Effective Teaching
Our Core Values
The mission of the University of St. Augustine for Health Sciences is the development of professional healthcare practitioners through innovative, individualized, and quality classroom, clinical, and distance education.
Student first
Professionalism
Promoting excellence and innovation in education
Collaboration
Integrity
Health and wellness
Responsiveness
Creative and critical thinking
Culture
Faculty members at the University of St. Augustine are very involved in their professional associations and pursuing clinical excellence and innovative practice. Our diverse array of clinical specialties promotes a varied scholarship agenda and contribute well to our blended-learning model, preparing our students for excellence starting on day one of employment.
Career Path
The University of St. Augustine for Health Sciences offers a career path to support your immediate and future success.
Instructor
Assistant Professor
Associate Professor
Professor
Key Benefits
Generous Medical, Dental & Vision Plans

Higher Education Tuition Assistance

Flexible Spending Accounts

Short and Long Term Disability Coverage

Life and Accident (AD&D) Insurance

401(k) Retirement Plan
Position Description
Job ID Req #73
Date posted 04/29/2019
GENERAL SUMMARY
Lab Instructors have various responsibilities such as organizing/maintaining equipment, preparing the lab environment, monitoring student progress and facilitating student participation in learning activities.  The lab instructor communicates with the lead instructor regarding student performance or issues that arise and ensures the delivery of consistent content and testing.  They may assist with grading practicals and other required assignments. 

The qualified candidate must have an entry-level Masters of Physical Therapy Degree or higher along with current certification with state board of chosen specialization.  At least 2 years of practical hands-on experience is required in a patient care setting in the profession.  The successful candidate will have excellent oral communication and organizational skills, be responsive to adult student needs, and be able to work collaboratively in a team environment.

This is a part-time 15-20 hours per week as scheduled position. 
ESSENTIAL DUTIES AND RESPONSIBILITIES
Prepares lab environment
Organizes and maintains equipment; proposes equipment orders as needed
Teaches lab component of course
Monitors student progress; gives feedback; facilitates student participation in learning activities
Assesses student performance on practical, oral, written examinations
Supervises lab assistants (when available)
Reports student grades at end of term to lead instructor
Communicates with lead instructor to ensure consistent content and testing and to recommend changes for upcoming semester
Serves as student-to-university liaison
Upholds student and part-time faculty handbook policies
Promotes professionalism by modeling such behaviors inside and outside the classroom setting
Self-evaluates teaching performance; sets goals for improvement 
OTHER DUTIES AND RESPONSIBILITIES
May perform other duties and responsibilities that management may deem necessary from time to time.
POSITION IN ORGANIZATION
Reports to:  Program Director
Positions Supervised:  Not applicable
TECHNICAL, MANAGERIAL & PEOPLE SKILLS REQUIRED
To perform this job successfully an individual must be able to perform each essential duty satisfactorily.  The requirements listed below are representative of the knowledge, skill, and/or ability required.  Incumbents will be evaluated, in part, based on performance of each essential function.  Reasonable accommodations may be made to enable individuals with disabilities to perform essential functions.
EDUCATION and/or EXPERIENCE
Entry-level Masters of Physical Therapy Degree or higher
At least 2 years of practical hands-on
experience in patient care setting in chosen specialization
Excellent organization and time management skills
Excellent oral communication skills
Professional role model
Able to provide a nurturing, respectful learning environment
Responsive to distance education, adult student needs
Working knowledge of educational theory and motor skill development
Able to work in a team environment
LICENSURE and/or CERTIFICATION
·

Licensed occupational or physical therapist from an accredited university with demonstrated expertise in the area being taught
Current certification with state board of chosen
specialization
TRAVEL
Minimal travel required
BUSINESS COMPETENCIES
·Collaborates - Building partnerships and working collaboratively with others to meet shared objectives.
·Being Resilient - Rebounding from setbacks and adversity when facing difficult situations.
·Instills Trust - Gaining the confidence and trust of others through honesty, integrity, and authenticity.
·Drives Results - Consistently achieving results, even under tough circumstances.
·Innovation - Creating new and better ways for the organization to be successful.
·Customer Focus - Building strong customer relationships and delivering customer-centric solutions.
WORK ENVIRONMENT
Work is performed primarily in a standard office environment but may involve exposure to moderate noise levels. Work involves operation of personal computer equipment for six to eight hours daily and includes physical demands associated with a traditional office setting, e.g., walking, standing, communicating, and other physical functions as necessary.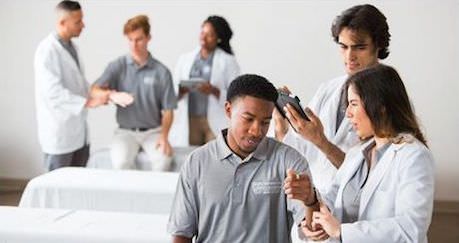 Celebrating 40 Years of Excellence
This year, the University of St. Augustine for Health Sciences (USAHS) is celebrating 40 years of educating clinical professionals and improving healthcare by preparing graduates to be leaders in their fields.
Continue Reading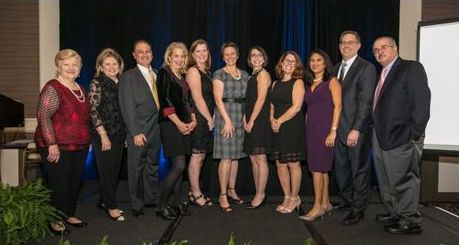 2018 Board Faculty Awards Ceremony
On the evening of Tuesday, December 4, the University of St. Augustine for Health Sciences (USAHS) held its annual Board Faculty Awards ceremony at the beautiful Hotel Colonnade in Coral Gables, Florida. The awards honor faculty members ...
Continue Reading