Senior Manager, Simulation Education and Operations, DPT Programs
Dallas, Texas, Miami, Florida, St. Augustine, Florida
Job ID: 848
Date posted: 03/20/2023
Overview
At the University of St. Augustine for Health Sciences (USAHS), we seek innovative people that focus on supporting our learners through every stage of their educational journey. Working at USAHS allows you to put students first, while being a force for good. We believe that advancing our communities starts with a diverse employee base, so that as we interact with others, we can build bridges to trust, respect, and understanding. At USAHS, we understand how important it is to be able to come to work as your full, authentic self, bringing with you all of the experiences and ideas that are uniquely 'you'. Grow not only in your career but as a person. Be a force for good. Be the University of St. Augustine.
Success Profile
What makes a successful staff member at the University of St. Augustine? Check out the traits we're looking for and see if you have the right mix.
Student First
Collaborate
Innovation
Customer Focus
Committed to Vision and Values
Accountable
Our Values
The mission of the University of St. Augustine for Health Sciences is the development of professional healthcare practitioners through innovative, individualized, and quality classroom, clinical, and distance education.
Student first
Professionalism
Promoting excellence and innovation in education
Collaboration
Integrity
Health and wellness
Responsiveness
Creative and critical thinking
Culture
As a Certified B Corp institution since 2015, we are proud to be a part of a global movement that empowers businesses to meet the highest standards of verified social and environmental performance, public transparency and legal accountability to balance and purpose. As part of the B Corp community we are committed to working toward reducing inequality, lowering levels of poverty, a healthier environment, stronger communities, and the creation of more high-quality jobs. As part of our family, you will be given the opportunity to participate in a wide range of community projects focused on environmental sustainability and community support.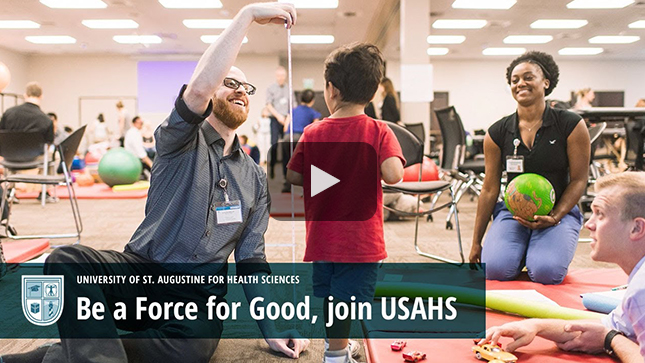 Key Benefits
Generous Medical, Dental & Vision Plans

Higher Education Tuition Assistance

Flexible Spending Accounts

Short and Long Term Disability Coverage

Life and Accident (AD&D) Insurance

401(k) Retirement Plan
The University of St. Augustine for Health Sciences offers competitive salaries and comprehensive benefits that include various options for health and wellness, income planning and protection, a generous paid time off policy including holidays, and professional development opportunities. See the full summary
Position Description
Job ID 848
Date posted 03/20/2023
The mission of the University of St. Augustine for Health Sciences is the development of professional health care practitioners through innovation, individualized, and quality classroom, clinical, and distance education.
GENERAL SUMMARY
The Senior Manager, Simulation Education and Operations provides vision, leadership, and coordination for the integration of simulation and other innovative and immersive technology approaches across the USAHS program curriculum, including interprofessional education initiatives. S/he collaboratively leads teams to identify, develop, and implement educationally impactful simulation events that align with institutional, program, and course objectives. S/he ensures effectiveness of simulation and related technologies by developing, implementing, and monitoring assessment standards. This individual works collaboratively with leadership, faculty, and staff across the institution to ensure evidence-based clinical standards and simulation best practices are reflected in all simulation activities, and to provide support, training, and mentoring to instructional teams. The Senior Manager is responsible for oversight of operational management of the CICP on the assigned campuses, including staff supervision, center oversight, assessment, and administration of campus-based simulation activities to ensure academic quality, student learning, and excellence in customer service.

ESSENTIAL DUTIES AND RESPONSIBILITIES
Simulation Education Leadership
Provides coordination, vision, and collaborative leadership to develop quality simulations that are aligned with program and course objectives.
Collaborates with faculty and academic leadership to develop and integrate standardized simulation experiences and immersive educational technology approaches consistently across all campus and course instances.
Collaborates with digital media and instructional design teams to develop, script, and record media-rich digital learning assets for simulation activities.
Facilitates comprehensive evaluations of CICP initiatives to promote growth and development.
Reports on program activities, standards, accreditation requirements, educational concerns, and student/staff successes.
Develops, delivers, and continuously improves the training opportunities and instructional materials available to faculty, CICP staff, students, and standardized patients.
Provides both group and individual mentoring of best practices in simulation and educational technologies to faculty and staff across all disciplines.
CICP Operations Oversight
Oversees the management of the assigned CICP(s), including oversight of operations, development of and adherence to policies and procedures, supervision of staff including student workers, and faculty and learner support.
Coordinates with local campus leadership for the assigned campuses to ensure staffing, support, and access for the centers and resources.

Manages simulation staff and team activities daily, including human resources and financial accountabilities.

Conducts performance reviews and works with staff to ensure professional development and advancement to deliver excellence in clinical simulation experiences.

Ensures that all campus CICP operational functions, such as inventory management, equipment maintenance, event scheduling, and service to faculty and students are centrally coordinated and effectively managed.
Provides oversight for standardized simulation events, and assists in the coordination, data collection, and assessment for simulations.
Ensures standardization of policies, procedures, and CICP facilities across campuses and delivery modalities.
Creates multi-campus troubleshooting and support documents, simulator checklists, and preventative maintenance plans for simulation equipment.
Collaborates with CICP staff and educational stakeholders to recruit, train, and assess standardized patients and embedded participants.
OTHER DUTIES AND RESPONSIBILITIES
May perform other duties and responsibilities that management may deem necessary from time to time.
POSITION IN ORGANIZATION
Reports to:  Sr. Director of Clinical Learning Innovation
Positions Supervised:   CICP staff on designated campus (es)
TECHNICAL, MANAGERIAL & PEOPLE SKILLS REQUIRED
To perform this job successfully an individual must be able to perform each essential duty satisfactorily.  The requirements listed below are representative of the knowledge, skill, and/or ability required.  Incumbents will be evaluated, in part, based on performance of each essential function.  Reasonable accommodations may be made to enable individuals with disabilities to perform essential functions.
Degree in a health sciences profession, such as Physical Therapy, Occupational Therapy, Speech Language Pathology, or Nursing.
At least two years of experience utilizing simulation in online, hybrid, and blended environments.
Experience as faculty or working with faculty as a peer in health sciences education.
Experience with scaffolding learning experiences, competencies, and outcomes within an academic curriculum.
Experience in simulation-based education and training, evaluation of outcomes, patient safety, and implementation of innovative simulation-based education and training programs necessary, or an equivalent combination of training and experience preferred.
Must understand the crucial role of simulation education as an integral part of health science education.
Knowledge of current issues and best practices for simulation in general and in higher education.
Significant knowledge of and experience with current simulation technology, pedagogy, best practices, standards, and simulation management software.
Experience in designing and implementing simulation experiences for students in online, blended, and hybrid programs in higher education.
Experience providing pedagogical and technical consulting for the design, development, and implementation of simulation scenarios across delivery formats.
Experience in facilitating and leading educators in the integration of simulation into the educational environments.
Experience in the administration of simulation experiences and the support of faculty teaching utilizing this teaching methodology in higher education.
Position requires the ability to work con-currently on several projects while maintaining details and meeting deadlines.


LICENSURE and/or CERTIFICATION
Certification from the Society for Simulation in Healthcare (CHSE) preferred, but not mandatory.
TRAVEL
Position requires at least 20% travel to USAHS campuses.
BUSINESS COMPETENCIES
To perform the job successfully, an individual should demonstrate the following competencies:
Collaborates - Building partnerships and working collaboratively with others to meet shared objectives.
Being Resilient - Rebounding from setbacks and adversity when facing difficult situations.
Instills Trust - Gaining the confidence and trust of others through honesty, integrity, and authenticity.
Drives Results - Consistently achieving results, even under tough circumstances.
Innovation - Creating new and better ways for the organization to be successful.
Customer Focus - Building strong customer relationships and delivering customer-centric solutions.
Drives Engagement - Creating a climate where people are motivated to do their best to help the organization achieve its objectives.
People Leadership - Leads by example when it comes to finding and developing talent, with a focus on talent acquisition strategies, setting performance targets that raises standards and development of high potential talent.
WORK ENVIRONMENT
Work is performed in a standard office, classroom and lab environment, and involves operation and maintenance of skills and simulation equipment, computer equipment, and educational technology.  The role requires standard physical demands associated with a lab setting, e.g., walking, standing, communicating, and other physical functions as necessary. 


Hiring Range $79,300 - $111,510
Compensation is a reasonable estimate and will be determined using the hiring range listed above and factors including, but not limited to, skillset, level of experience, education, and physical work location, to the extent consistent with applicable law.
The University is committed to a policy of Equal Employment Opportunity and will not discriminate against an applicant or employee on the basis of age, sex, sexual orientation, gender identity, race, color, creed, religion, ethnicity, genetic information, national origin ancestry, disability, marital status, military status, or any other legally recognized protected basis under federal, state, or local laws, regulations, or ordinances.
Related Jobs
Sr. Faculty Development Specialist

San Marcos, California; Miami, Florida; Austin, Texas; St. Augustine, Florida

03/28/2023

Speech Language Pathology (SLP) Clinical Educator

; Austin, Texas; Dallas, Texas; New York

03/23/2023

Senior Manager, Simulation Education and Operations, DPT Programs

Dallas, Texas; Miami, Florida; St. Augustine, Florida

03/21/2023
View All Jobs