Faculty, Full Time - Doctor of Physical Therapy ACCE Flex Program
San Marcos, California
Job ID: Req #161
Overview
A core faculty member at the University of St. Augustine for Health Sciences (USAHS) provides engaging clinically-focused learning opportunities for students in the health science professions through face-to-face, blended, and online delivery methods. A faculty member is responsible for teaching, academic advising, and service involving collaboration across other departments and campuses. They provide service to the University through committees, curriculum improvement, and advocacy for their profession. Faculty members are scholars, being involved in building and integrating knowledge for the advancement of the profession and the University.
Job Type
Full-time
Core

Experience
2 years of clinical experience

Certification
Licensed or eligible for license per one's discipline in which the campus in located
Success Profile
What makes a successful core faculty member at The University of St. Augustine? Check out the traits we're looking for and see if you have the right mix.
Committed to Mission and Core Values
Dedicated to Students First
Accountable
Academic and Professional Expertise
Educational Design and Delivery
Effective Teaching
Our Core Values
The mission of the University of St. Augustine for Health Sciences is the development of professional healthcare practitioners through innovative, individualized, and quality classroom, clinical, and distance education.
Student first
Professionalism
Promoting excellence and innovation in education
Collaboration
Integrity
Health and wellness
Responsiveness
Creative and critical thinking
Culture
Faculty members at the University of St. Augustine are very involved in their professional associations and pursuing clinical excellence and innovative practice. Our diverse array of clinical specialties promotes a varied scholarship agenda and contribute well to our blended-learning model, preparing our students for excellence starting on day one of employment.
Career Path
The University of St. Augustine for Health Sciences offers a career path to support your immediate and future success.
Instructor
Assistant Professor
Associate Professor
Professor
Key Benefits
Generous Medical, Dental & Vision Plans

Higher Education Tuition Assistance

Flexible Spending Accounts

Short and Long Term Disability Coverage

Life and Accident (AD&D) Insurance

401(k) Retirement Plan
Position Description
Job ID Req #161
Date posted 05/29/2019
GENERAL SUMMARY The ACCE is responsible for coordinating and overseeing the clinical education portion of the DPT curriculum. This is a faculty position with teaching, scholarship, advisement, and service responsibilities in addition to the administration of clinical education. This position requires significant contact with students, outside constituents, professional consortiums, and ACCE faculty at the other USA campuses. ESSENTIAL DUTIES AND RESPONSIBILITIES SUPERVISED BY THE PROGRAM DIRECTOR 1. Course management a. Prepares and delivers course instruction as assigned b. Maintains environment conducive to learning and facilitates student participation c. Assesses student performance, monitors student progress, and provides timely feedback d. Interacts with program faculty at all campuses regarding clinical education and doctoral experiential component/residency curriculum 2. Advisement a. Advises entry-level students with academic and/or personal issues 3. Scholarship a. Sets scholarship plan, implements plan as prescribed by accreditation standards 4. Service a. Serves on programmatic and university committees as assigned b. Serves as university liaison in community and/or professional activities 5. Clinical Education Program Planning, Implementation, and Assessment a. Development of students as clinicians in all domains of professional clinical practice; appropriately assesses student learning and performance b. Coordinates or participates in the development of clinical education faculty c. Analyzes the clinical education and doctoral experiential component/residency program academic outcomes for compliance to accreditation standards d. Advances the vision of the profession and delivers new ideas with a forward-looking perspective of clinical education e. Appropriately communicates to faculty and program directors on student and curriculum information ESSENTIAL DUTIES AND RESPONSIBILITIES IN COLLABORATION WITH THE CLINICAL EDUCATION DEPARTMENT 1. Communicates between the Academic Institution and Affiliated Clinical Education Sites a. Communicates with all concerned stakeholders (e.g., clinical education sites, clinical faculty and students) to maintain current knowledge of the educational program, the clinical education sites, and health care changes affecting clinical practice and education b. Communicates and oversees communication with Center Coordinators of Clinical Education (CCCEs), Clinical Instructors (CIs), and students to assess student performance. Provides guidance and support as required to problem solve and discuss pertinent issues with students, CIs, CCCEs c. Places, supervises, and communicates with students while on clinical experiences. d. Evaluates each clinical education site through student feedback, on-site visits, and ongoing communications, and routinely shares this information with academic and clinical faculties e. Coordinates and plans clinical education with other campuses/programs and clinical education staff f. Attends Clinical Education Meetings and local consortium meetings 2. Clinical Site Development a. Maintains the procedures for clinical site selection, utilization, and assessment b. Maintains an adequate number of clinical education sites relative to quality, quantity and diversity of learning experiences to meet the educational needs of students, the philosophy and outcomes of the program, and CAPTE evaluative criteria c. Provides clinical education site development through ongoing evaluation and assessment of strengths and areas for development (e.g., in service training, discontinue student placements) as approved by the Program Directors 3. Clinical Faculty Development a. Collaborates with clinical faculty to promote, coordinate, plan, and provide clinical faculty development opportunities using effective instructional methodologies and technologies with approval of the Program Directors b. Encourages clinical faculty to participate in local, statewide, and national forums c. Maintains knowledge of current trends in health care and its affect on clinical education and apprises clinical educators and faculty of any changing trends d. Mentors other academic faculty about their role and responsibilities related to clinical education (e.g., clinical site visits, determining readiness for the clinic) 4. Works under the direction of the Clinical Education Department Head to support a collaborative environment in the clinical education office with behaviors such as: a. Demonstrating mutual respect for each member of the team and the policies of the university; displays positive interpersonal relationships b. Being attentive to staff job responsibilities and chain of command c. Participating in the planning and coordination of clinical education functions d. Communicating regularly and clearly with all members of the team e. Demonstrating a productive attitude toward improvement processes within the department OTHER DUTIES AND RESPONSIBILITIES Other responsibilities as assigned by the Academic Program Director
POSITION IN ORGANIZATION Reports to: Academic Program Director/Assistant Academic Program Director Collaborates with: Clinical Education Associates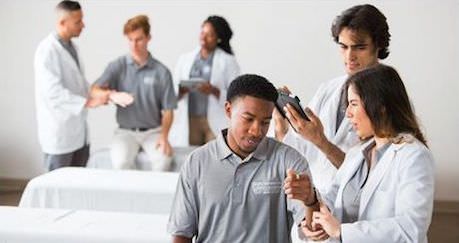 Celebrating 40 Years of Excellence
This year, the University of St. Augustine for Health Sciences (USAHS) is celebrating 40 years of educating clinical professionals and improving healthcare by preparing graduates to be leaders in their fields.
Continue Reading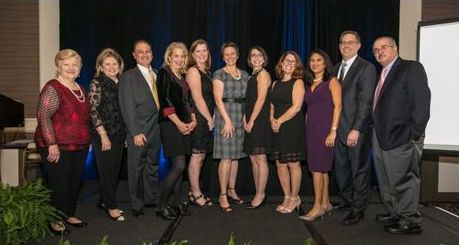 2018 Board Faculty Awards Ceremony
On the evening of Tuesday, December 4, the University of St. Augustine for Health Sciences (USAHS) held its annual Board Faculty Awards ceremony at the beautiful Hotel Colonnade in Coral Gables, Florida. The awards honor faculty members ...
Continue Reading